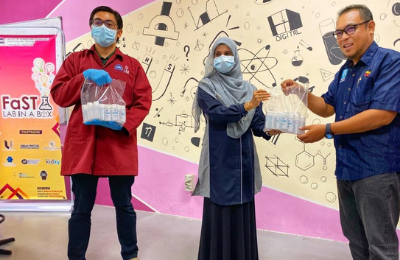 NILAI, April 8, 2020 – Media practitioners play a key role throughout  the implementation of the Movement Control Order (MCO) as a front-line force to report to the public on the MCO and COVID-19. With the task of covering news at various locations, media practitioners are no exception to being exposed to the Covid-19 infection.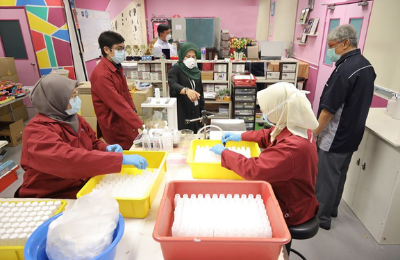 NILAI, 4 April 2020 – Menteri Pengajian Tinggi, Dato' Dr. Noraini Ahmad meluangkan masa dua jam di Universiti Sains Islam Malaysia (USIM) pada Jumaat petang (3 April 2020) untuk melihat secara dekat pengurusan dan kesiapsiagaan USIM dalam memerangi wabak Covid-19. Beliau yang tiba di Kampus USIM pada jam 4.00 petang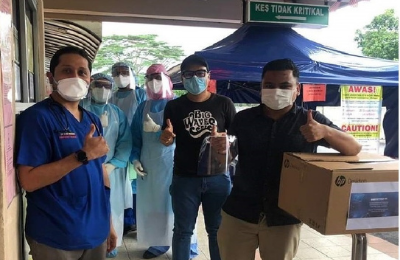 NILAI, March 25, 2020 – Faculty Science and Technology, Universiti Sains Islam Malaysia (USIM) takes the initiative to produce face shield for the use of the health front liners in the fight against Covid-19. The project was initiated by a group of lecturers of the faculty headed by Dr. Mohd Ifwat Mohd Ghazali. The face shield is a crucial component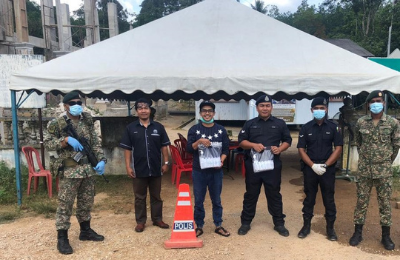 NILAI, April 21, 2020 – Various parties continue to give support and donation to the initiative driven by Universiti Sains Islam Malaysia (USIM) to aid the needs of the front liners. Today, our local singer, Ezad Lazim or his real name Mohd Rohaizad Mohamad Lazim, age 41, reached out to volunteer delivering USIM's hand sanitizers to Gua Musang, Kelantan.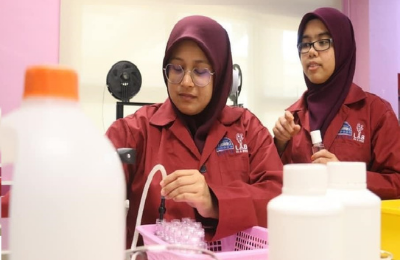 NILAI, 27 Mac 2020 – Pensyarah dari Fakulti Sains dan Teknologi (FST), Universiti Sains Islam Malaysia (USIM) mengambil inisiatif menghasilkan cecair hand sanitiser bagi memenuhi keperluan kakitangan dan pelajar USIM sebagai langkah pencegahan untuk mengurangkan risiko penularan virus dan bakteria berbahaya terutamanya semasa penularan Covid-19.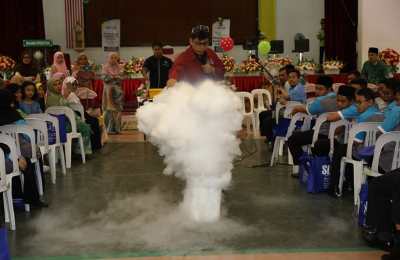 NILAI – Mengembalikan minat dan memupuk sikap cintakan sains, FastLab Fakulti Sains Teknologi memberi tumpuan kepada Pendidikan Science, Technology, Religiosity, Engineering, Artistry and Mathemathics (STREAM) untuk mendidik generasi muda dengan perkara yang mereka gunakan dan wujud dalam kehidupan seharian mereka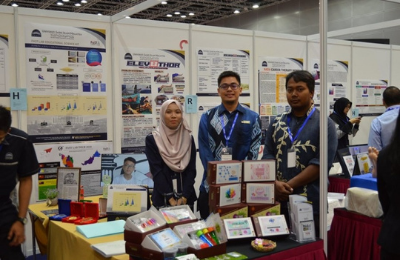 Dalam usaha mencipta suasana pembelajaran subjek Sains dan Matematik sesuatu yang menyeronokkan, pensyarah di Fakulti Sains dan Teknologi (FST), Dr. Muhammad Zamir Othman dan kumpulan menghasilkan inovasi makmal yang dinamakan Lab in a Box (FaST LaB). Beliau yang juga merupakan Pengerusi Jawatankuasa STEM/STREAM menyedari peranan yang harus diperkasakan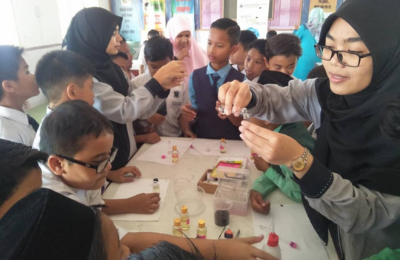 Institut Sains Islam (ISI) merupakan Inkubator Penyelidikan yang bersifat unik kerana ia bukan sahaja memfokuskan bidang penyelidikan dan inovasi, malah merupakan antara tulang belakang penganjuran pertandingan rekacipta yang berlangsung di Universiti Sains Islam Malaysia (USIM). Jika diamati, ISI turut memainkan peranan dalam membawa agenda USIM  bagi menintegrasikan ilmu Naqli dan Aqli